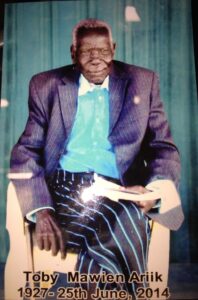 In South Sudan, the pain and suffering of the rural/remote communities for example Lou-Ariik has been a part of life for generations. The people of Lou Ariik, who live in the northern tip of Tonj county bordering the Upper Nile Province (Mayom county), have been affected by wars, poverty, diseases, illiteracy, and many other unseen crises for so long.
In a society whose wealth is based on cattle, when cattle are stolen by a rival community, it leaves so many people depressed and traumatized. In this area, many people die of diseases without treatment because they have no access to basic health care. Children are born and grow up without education. The roads are impassable during the rainy season, leaving populations isolated. Rival clans  have been warring against each other for generations.
From 1991 to 1993, the people of Lou Ariik area were forced from their villages by tribal armed attackers who uprooted almost every family, and looted and burned their homes to ashes.
 Many were killed in the attacks. People who survived the attacks were left with nothing, and many starved to death.
People fled south to safer hideouts. They left emptyhanded, with heavy hearts and little hope.
In 1994, a few families returned to Lou Ariik village, led by Uncle Toby Mawien.  Toby Mawien was popularly known as Mr. Akougook, or "Shield." He left the government of Sudan in 1984 to join the rebel movement, Sudan People's Liberation Movement and Army, or SPLM/A.Akougook kept a dream in his head to change society with the tool of education. He was fond of saying, "Every change for the better begins with education. It is time that our children go to school for a better life."
Soon after Uncle Toby led the people of Lou Ariik back to their homeland, probably around September of 1994, he started a campaign to start schools under the trees of Lou-Ariik villages.
He started with the sub village of Akok under the Tamarind tree and extended the Under the Tree Schools to other villages namely: Warkot, Mading, Makew, and later Alabek village. He would move from house to house, village to village; recruiting children and convincing their parents to allow their children to attend the Under Tree Village School at Akok.  
One month later many children reported to the school under three Tamarind trees in Akok to attend classes. He managed to convince the writer of this piece (Ariik Atekdit) to attend two years later when he was 11 or 12 years old. The schools established by Uncle Akougook never had blackboards or chalk. Children wrote on the ground until Uncle Toby Mawien invited Catholic missionaries from the Diocese of Rumbek to come and see what he had established so far. When classes became too large for him to manage, Uncle Akougook negotiated with some educated soldiers from the rebel army administration to help him teach the children. That created a situation of schools and students behind the front lines of the SPLA-liberated areas.
By establishing this system of Under the Tree Schools, Uncle Toby Mawien brought education back to the Lou Ariik area for the first time since the colonial era, probably the late 1930's or early 1940's. The colonialists closed Longkap village school, which forced the children to go to Tonj town, or Kuacjok.
Both of those schools were a three day walk from Lou Ariik Village. A few years later these towns came under attack as rebels and government forces exchanged fire, so the schools were no longer safe for learning.
The idea of education in the villages flourished, and now many youths who were taught by Uncle Toby have completed their university studies, and have become professionals in different fields.
Some children who fled to refugee camps in Kenya and Uganda had opportunities for education in the refugee camps, as well. Two and a half decades after Uncle Toby Akougook struggled to start the Akok under the Tree Primary School, the school still exists under the Tamarind trees without a single concrete classroom or constructed pit latrines. Uncle Toby Akougook was instrumental in establishing the Chibak Primary Health Care Centre in 2005. He coordinated with Bol Mawien Makeen to build the first ever concrete health facility in Lou-Ariik village. Akougook successfully supervised the resources to construct  the current and only health facility available in the greater Lou Ariik area. It was supported by Diaspora.
When Uncle Toby Akougook died in 2014 in Juba, a Lou Ariik community elder, Anthony Agiem Akot, had this to say: "Mawien Toby was a very unique, eloquent and respected person among his colleagues and the whole of South Sudan," adding that "Being known as the son of a Paramount Chief, he gained a lot of fame among his colleagues and within his family." Kuei-Bileu is one of Toby Mawien's daughters, and at his funeral in 2014, she said,
" I am very proud of my dad. He was a successful leader who has taken care of his large family. He took care of us as well as the interests of his country. My dad has left a very great legacy behind him. He loved education and he has supported and taught many people. We the children will make sure that his legacy is preserved and we must make more than he has done to help his people."
South Sudan became an independent country in 2011.  It is not clear when the central government will bring any services to remote villages like  to the people of Lou-Ariik Village.  That is why the Akougook Initiative, must be supported. Toby Mawien's son, Dr. Arik Mawien started this Initiative to bring hope to the people of South Sudan: hope that lives will be rescued from disease; hope that children will be able to attain quality education, learning in decent classrooms; hope that peace activities will restore harmony between different ethnic groups and clans, not only in Lou-Ariik village but also within Bar el ghazel region, and even the whole country of South Sudan.
Uncle Toby Mawien's son, Dr. Arik Mawien, endeavors to extend his father's legacy through the Akougook Initiative. 
The legacy of actions and deeds from the humanitarian worker and education initiator who was Uncle Toby Mawien, the Shield for his people, will continue on through the whole country of South Sudan with the efforts of his son, Dr. Arik Mawien. We must support the Akougook Health, Education and Peace Initiative.